Latest Blog Posts
In recent years, I noticed Sabrina Spellman and Sharon Spits look similar. And so do Harvey and Alden. Anyone else notice similarities?
See more >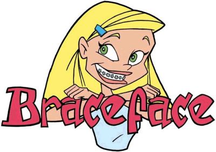 Welcome to Braceface Wiki!
Braceface Wiki is a collaborative wiki about the Canadian cartoon, Braceface,
written from an In-Universe "this was 'real'" perspective.
Anyone can edit, and you are absolutely welcome to join us.
Characters
About The Series
Featuring Alicia Silverstone as the voice of Sharon Spitz, Braceface is an award winning half-hour animated comedy chronicling the perils of adolescence. Sharon also finds herself dealing with mysterious and embarrassing mishaps caused by her new braces. No one ever said that growing up is easy, and no one is learning this faster than Sharon Spitz. Despite everything that comes her way Sharon is still smiling…even if it is with a tin grin!
Episode Links
Opening Theme
---
Teletoon Original Productions